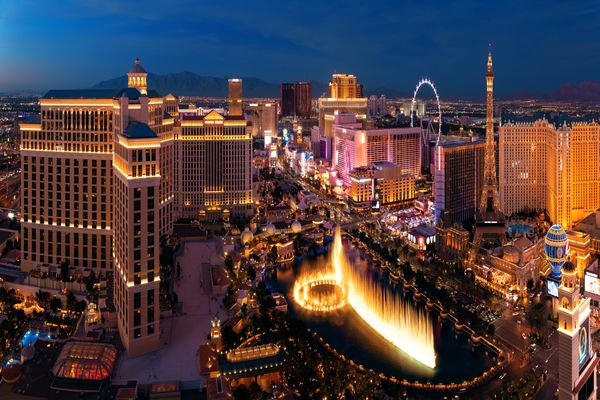 Las Vegas, the iconic city of lights and entertainment, has a surprisingly rich history intertwined with the American automotive industry. When one thinks of Las Vegas, Nevada, the first thing that might come to mind is its glamorous casinos and world-famous entertainment venues. However, beneath the glitz and glam is a city deeply rooted in transportation milestones.
The construction of highways in the early 20th century, including the Arrowhead Trail, played a pivotal role in connecting Las Vegas to the rest of the country. This route, passing directly through Las Vegas, not only stimulated its economy but also introduced a new wave of automotive enthusiasts. As the city evolved, so did its relationship with cars.
By the mid-20th century, Las Vegas had already become a hotspot for classic car shows, races, and automobile conventions. The love for cars transformed this desert city into an automotive hub.
Present-Day Las Vegas's Notable Car Shows and Events
Present-day Las Vegas continues to host some of the biggest automotive trade shows and conventions in the world, including the SEMA Show and AAPEX.
The SEMA Show, also known as the Specialty Equipment Market Association Show, is one of the most renowned international automotive trade events. Organized annually by the SEMA organization, it attracts industry professionals from all over the world. The SEMA Show provides a platform for manufacturers, distributors, and professionals to showcase their aftermarket products and technologies, and for the global automotive community to share ideas, innovations, and emerging trends.
Similarly, AAPEX (Automotive Aftermarket Expo) is another annual event that focuses on the automotive aftermarket industry. It offers insights into the latest in automotive parts, services, and technologies, and serves as a key gathering for industry professionals aiming to expand their networks, discover innovative products, and understand changing industry dynamics. Cutting-edge technologies are often unveiled here every year.
Las Vegas's Finest German Auto Mechanic Services
When it comes to your car, you deserve nothing but the best. The team at German Motors boasts some of the most skilled professionals in the country. First established in 1982, our auto mechanics leverage decades of experience and the latest industry practices to offer top-notch services to Las Vegas, Nevada, and nearby communities.
Our Featured Services
Why Customers Have Been Choosing German Motors Since 1982
We are an independent, locally owned and operated auto repair shop that has been serving Las Vegas and other local communities for more than four decades. From BMW to Audi and from Mercedes-Benz to Mini Cooper and beyond, our expert mechanics will restore your car to its pristine condition.
Boasting an impressive history of customer satisfaction and countless five-star reviews, our mechanics employ cutting-edge technology to ensure fast, top-tier, and trustworthy auto services.
We strictly use quality OEM (Original Equipment Manufacturer) parts and components.
As a long-standing AAA business, we warmly welcome most extended warranty contracts.
We offer additional financing options for our customers.
German Motors is your trusted choice for comprehensive vehicle diagnostics and repairs. With a rich history dating back to 1982, unmatched expertise, and a distinguished reputation as the leading auto shop and service center in Las Vegas, Nevada, our team is dedicated to providing exceptional customer service. Schedule your appointment online today or reach out to us at 702-696-0880.