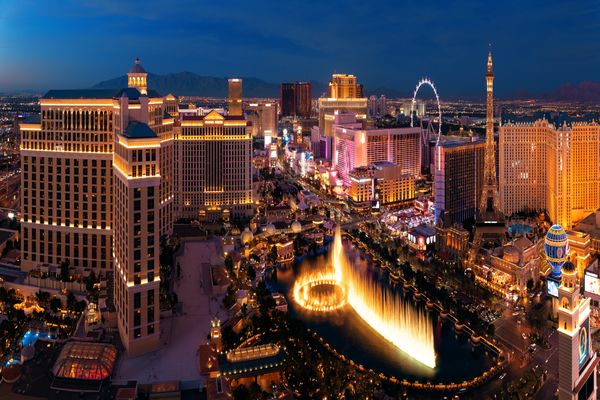 Las Vegas, Nevada
Las Vegas is the twenty-eighth most populous city in the United States and the largest city in Nevada. It is also the county seat of Clark County. The city is often referred to as The Entertainment Capital of the World and is famous for its mega casino-hotels and associated activities. Needless to say, Las Vegas is also a global leader in the hospitality industry. The city is annually ranked as one of the world's most visited tourist destinations.
Things to Do in Las Vegas
Las Vegas is home to several museums, including the Neon Museum and the Las Vegas Natural History Museum. The city also has a thriving Downtown Arts District which hosts several galleries and events including the annual Las Vegas Film Festival. Here are some of our favorite family friendly places to visit in Las Vegas:
The Nevada State Museum is the state's homage to its indigenous heritage. Before Nevada became the 36th state to join the Union, it was home to indigenous people for thousands of years. The Nevada State Museum explores the last 150 years of development through a variety of exhibits that focus on natural, cultural, and industrial history.
The Las Vegas Little Theatre is the area's oldest community theater. Founded by Jack Bell and Jack Nickolson in 1978, the Las Vegas Little Theater now hosts many award-winning and critically acclaimed plays. Acting classes are also available.
There are more than a thousand fountains in the Bellagio. Every fifteen minutes or half an hour, seven days a week, these fountains dance to music ranging from Pavarotti to Sinatra.
Sports in Las Vegas
Las Vegas hosts the Raiders, a football team that is part of the National Football League that relocated from Oakland, California in 2020. The city also hosts the Vegas Golden Nights of the National Hockey League and the Las Vegas Aces of the Women's National Basketball Association.
Many visitors to Las Vegas get there via road trip. If you are a visitor or resident of Las Vegas and are in need of vehicle repairs, do not hesitate to come to German Motors in Las Vegas. We are your local Mercedes Benz specialists, BMW mechanic, Porsche mechanics, and more.
Your Trusted Auto Repair Shop
When Las Vegas residents need their cars repaired or maintained, they come to German Motors in Las Vegas. We are located at 3379 Sammy Davis Jr. Drive.
Our technicians have decades of combined experience and we are committed to providing top-notch customer service, every time. Here are some reasons why we should be your trusted auto repair shop:
All of our technicians are ASE-Certified.
We welcome all extended warranty contracts.
We have an average review score of five stars based on reviews from over 1,200 satisfied customers.
We are a long standing AAA establishment.
Make German Motors in Las Vegas your local auto repair shop! Schedule an appointment with us online or give us a call at 702-381-6411.