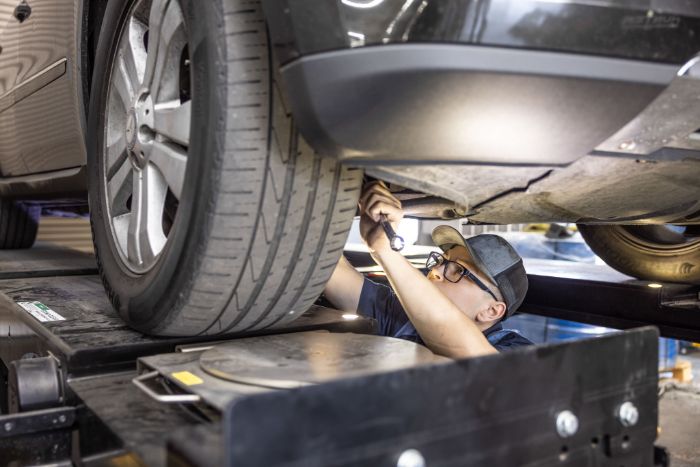 A Brief History of Mercedes-Benz
A significant number of Las Vegas residents favor Mercedes-Benz for their transportation needs, a preference rooted in a rich history of innovation and automotive excellence.
Tracing its origin back to Germany, the journey of Mercedes-Benz began with Karl Benz's creation of the first gasoline-powered automobile, known as the Benz Patent Motorwagen. Patented in January 1886, it entered the market under the Daimler Motors Corporation in 1901. The vehicle was christened Mercedes 35 in honor of Mercedes, one of the daughters of an automobile industry magnate associated with DMC.
Jellinek embarked on a marketing spree, capturing the attention of high-profile personalities around the globe, including the Rothschild, Rockefeller, and Astor families. Notably, the 1899 race in Nice, where Jellinek participated under the alias Monsieur Mercédès, marked the beginning of Mercedes-Benz becoming an internationally renowned brand.
In 1926, Mercedes-Benz made its official debut at the Berlin Motor Show, producing 7,000 units the following year. They continued to innovate, introducing the Mercedes-Benz W15 in 1931 with groundbreaking technologies such as the first four-wheel independent suspension system and advanced hydraulic brake technology. Their expansion included the launch of the first passenger diesel car, the W136, and other distinguished models until production temporarily ceased during World War II.
Mercedes-Benz cars have always focused on motorist and passenger safety. Beginning in the 1950s, the company started performing crash tests on each model prior to its release. In 1952, Mercedes-Benz initiated the export of its automobiles to the United States, starting with the 300SL Gullwing. Since then, the company has consistently expanded its production, emerging as a global phenomenon renowned for its unparalleled automotive luxury and high-quality craftsmanship.
Mercedes-Benz We Service Today
As Mercedes-Benz vehicles continue to rise in popularity, the demand for certified Mercedes mechanics has also grown substantially. At German Motors, we know that your Mercedes-Benz is a valuable investment. That's why we offer a comprehensive range of maintenance and repair services to keep your car running smoothly and safely.
Regardless of the model you drive, our certified technicians are experts in all aspects of Mercedes-Benz care. We specialize in brake repairs, transmission repairs, and advanced diagnostics for Mercedes-Benz, BMW, and other German vehicles. Our team leverages decades of combined experience to ensure your car receives exceptional care. Some of the most popular Mercedes-Benz models we service today include but are not limited to:
Mercedes-Benz C-Class: Since its introduction in 1994, the C-Class has made its name as a compact, mid-range sedan. Customers usually have the option to choose from a four-door sedan, a two-door coupe, or a two-door soft-top convertible, providing a versatile range of choices for potential owners. Even today, it remains one of Mercedes-Benz's most popular vehicle models.
Mercedes-Benz E-Class: Positioned a tier above the C-Class in both size and pricing, the Mercedes E-Class epitomizes sensual purity, a design philosophy emphasized by Mercedes-Benz themselves. Its powerful design aesthetic encapsulates both comfort and sophistication, promising an eloquent presence on the road.
Mercedes-Benz GLE-Class: Formerly known as the M-Class, the GLE-Class represents Mercedes-Benz's venture into the realm of mid-size luxury SUVs. Available as both SUVs and Coupes, GLE-class vehicles typically offer the standard six-cylinder engine option or the equally-revered eight-cylinder AMG option.
Mercedes-Benz S-Class: Often considered to be the pinnacle of Mercedes-Benz's full-size luxury sedans, the S-Class embodies the epitome of success for most Mercedes and German car enthusiasts. Mercedes-Benz describes this model as being more than just motivated—it is indeed motivational. This sentiment is backed by numerous accolades, including top rankings in the 1987 to 1990 J.D. Power Sales Satisfaction Index, seven What Car's Best Luxury Car awards, and being named Fleet News' Luxury Car of the Year on five different occasions.
Mercedes-Benz SL-Class: With a production lineage tracing back to 1954, the Mercedes-Benz SL-Class houses many legendary vehicles in its name. Typically offered with either a six or eight-cylinder engine, this large, luxurious roadster continues the Mercedes-Benz tradition of delivering unrivaled splendor and impressive performances.
Other Makes and Models: In addition to servicing a wide range of Mercedes-Benz vehicles, we also provide a comprehensive range of maintenance services and repairs for other European makes and models, including BMW, Porsche, Audi, Mini Cooper, and Volkswagen.
North Las Vegas's Most Reliable Mercedes-Benz Mechanic
We recognize that every luxury car, including the esteemed Mercedes-Benz, will inevitably require professional care. When that moment arrives, we invite you to entrust your Mercedes-Benz or other European car(s) to German Motors.
Since our establishment in 1982, German Motors has faithfully served Las Vegas, Nevada, and its neighboring regions for over four decades. Our owner, Danial Eros, employs highly skilled technicians with extensive passion and automotive repair training. We offer a wide range of services, with a specialization in Mercedes-Benz diagnostics.
Our unwavering dedication to customer satisfaction stands as the cornerstone of our business philosophy. We pride ourselves on consistently delivering dealership-quality craftsmanship, characterized by a remarkable level of efficiency, cost-effectiveness, and expertise that truly sets us apart from the competition.
Our team of technicians are seasoned experts, performing every task with meticulous care and attention to detail. We want to ensure that your car's performance and longevity are optimized to the highest standards. Our expertise and the value we provide to our customers remain unrivaled in the local automotive industry. Experience the pinnacle of automotive excellence and customer service with German Motors—give us a call today at 702-696-0880.
Choose German Motors—Vegas's Gold Standard in Mercedes-Benz Car Repairs
Certified repair center that only uses genuine parts and components
Convenient, same-day services
Online scheduling available
Financing options available
Air conditioning services
And more!
Servicing the Greater Las Vegas Metropolitan Area
North Las Vegas, NV
Paradise, NV
Henderson, NV
Summerlin, NV
Other local counties